We always like to keep a nice variety of vintage saxes available for our loyal customers. Due to increased demand of vintage horns, our inventory has been greatly reduced. We are working hard to locate quality instruments for our customers and will soon have more to offer on this web page. If you have any questions or requests please go to our contact page and use the email link to drop us a line.


If you click on the picture and do not get the slide show, the trouble may be that you are using Windows Internet Explorer. Windows does not support this type of animation. You may want to try using Mozilla or Firefox. Firefox is a free web browser and can be found at http://www.mozilla.com/en-US/firefox/new/ I have found Firefox to be more secure than Windows IE, too.

We also buy used muscial instruments. Email us and let us know what you have to sell.
We accept PayPal and we ship.

We have a collection of beginner instruments that are for sale as well as the professional instruments you see on our web page. If you are in need of a beginner instrument, please use the contact page or call for availability and prices. We have several flutes and clarinets as well as a couple of saxes and trumpets.

If you see something you like, I will entertain offers.

Coming very soon: 1957 Mark VI Tenor in original silver plate with hi f# and early 5 digit serial number.
Selmer padless alto sax which I am told is the 2nd rarest sax available. Still looking for a way to replace the gaskets.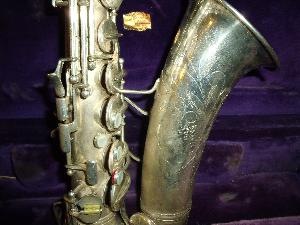 FOR SALE: Silver plated Conn Transitional 6m Alto Saxophone. This 6m Tranny is one of the more rare Conn saxes. It has all the earmarks of a 6m including rolled tone holes, under-slung, double socket neck with microtuner, raised right hand side high E key, larger redesigned left hand spats, adjustable thumb rest and of course the naked lady engraving on the bell. The silver plate is 100% with a gold wash bell. Whether a collectable or a player, it is guaranteed to satisfy. Serial Number: M257682A, this lovely horn was manufactured in 1933. $2800.00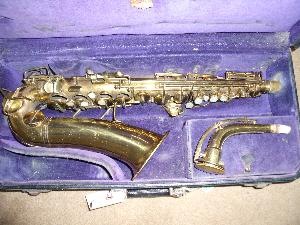 FOR SALE: Conn Gold Lacquer 6m Transitional Alto Saxophone. This sax is complete with everything you would expect in a 6m including rolled tone holes, new octave mechanism design, raised right side high E, 6m style left hand spats, double socket, New York style neck....no microtuner with an over the top octave key, and adjustable thumb rest. It does not have the naked lady engraving on the bell. It does have the neck plug to keep the double socket neck from bending while in the case which is very rare with these saxes. The gold lacquer is @ 85%, but it's still a head turner. Serial Number : M2520** Manufactured in 1932. $1750.00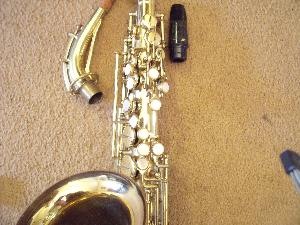 FOR SALE: Martin Master "Typewriter" Gold Lacquer Alto Saxophone- Made in 1929, it has been a favorite of jazzers for years. Right a way, you will notice that this alto is heavier than most, which is typical of Martin horns. The heavier brass gives this alto the characteristic sensual sound and projection that all Martins have. Originally called "The Master" it earned the name "Typewriter" because every key terminates in a round pearl instead of the elongated keys that you find on the side and palm keys of others. This horn was obviously cherished. The gold lacquer finish is at 95+%. This is the easiest blowing alto I have ever played handling the low Bb to the high F with minimum air. The altissimo register speaks equally as well. This horn comes with a nice, soft, gig bag and a Couf mouthpiece. Serial Number-96655. $1200.00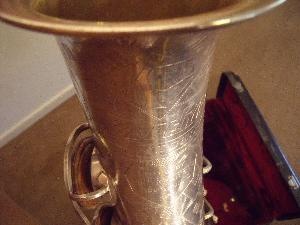 FOR SALE: King Zephyr Alto Saxophone in Silver Plate- This rare, silver plated zephyr, is a lovely and striking horn. Made in 1936 this was and still is a professional quality horn. The left and right spats are square and it comes with a double socket neck and 3 position neck strap ring. It has screw adjustments on the auxiliary f key and the low keys. The finish is 99% and will play great with a little work and a repad. White roo pads with rounded silver plated resonators will make this alto absolutely gorgeous. It comes in the original case with the original King mouthpiece. It even has the end plug for the double socket neck, which is rarely seen these days. Serial Number: 188632. $2000.00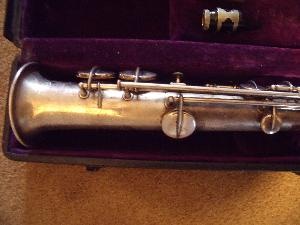 FOR SALE: Conn Silver Plated Straight Chu Berry Soprano Saxophone with gold wash bell. Like all the great Conn Chus this soprano has rolled tone holes, nail file g# key and newly designed palm keys. It was triple silver plated at the factory which is why so many of the old Conns keep their finish so well. Serial Number M1990** and manufactured in 1927 this horn requires restoration and will look as good as new when finished. The case is in excellent condition with the original Conn mouthpiece included. This is one of the most popular of the Conn saxes. $1850.00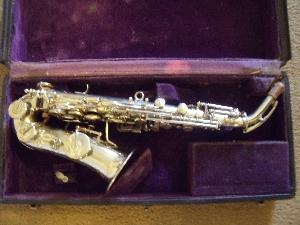 FOR SALE: Lyon & Healy Chrome Plated Curved Soprano Saxophone. This sax was manufactured by Martin. Most "stencil" horns tend to be a lesser quality horns. The "Martin stencil" is made with the same quality as Martin horns. The chrome plating is @ 90%. The key touches are metal rather than pearl. The tone holes are soft soldered to the body and are slightly beveled. The most noticeable thing about this horn is it's heft. It is noticeably heavier than other sopranos, which is expected with Martin horns. Serial number: 831** and it was manufactured in 1927. It is pitched in Bb and keyed to E. $1250.00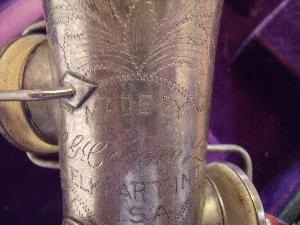 FOR SALE: This is a very nice Conn Chu Berry Curved Soprano Saxophone. Triple silver plated at the Conn factory and in incredible shape for its age. It has no dents or dings, complete with rolled tone holes and a nail file G# key and the original mouthpiece. The silver plate finish is 100% with a gold wash bell. The case is in used condition. Serial Number: M1678** . Manufactured in 1925. It is a great rare piece and once repadded with white Roo pads it will look and play like it just came from the factory. It is pitched in Bb and is keyed to high E. Price-$2000.00